About Author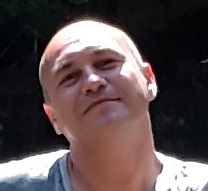 Engaged in Astrology from 1990. Graduated in absentia Moscow The Highnest School of Classic Astrology with qualifications astrologer-researcher.
The GERMES Software was originally written for yourself. It was 1994, when computers were weak, and astrology software in Russian was sorely lacking. Later there was idea to share the work with others, the program was cleaned up, the interface redesigned - so appeared the first version, accessible to a limited number of friends. When there was access to the Internet, the program became public. For that many thanks to A. Timashev, who kindly provided a place on his server, as well as thanks to all those who helped me make this program in the form in which it is now.
The name GERMES consists of a combination of two words: 'Germinate' and 'Hermes' - the ancient Greek god, the patron of dexterity, smartness, trade, magic, alchemy and astrology.
Currently, the development of the DOS-version (1.x) is discontinued. The DOS version remains free and fully functional, available for both personal and commercial use (the interface is in Russian only).
The Windows version is being actively developed and improved. It is available both in the free Lite version, and in full, paid. For purchasing the full version - contact the author.
If you have any questions or requests, please write here or to the address specified in the software on the Help-About form.